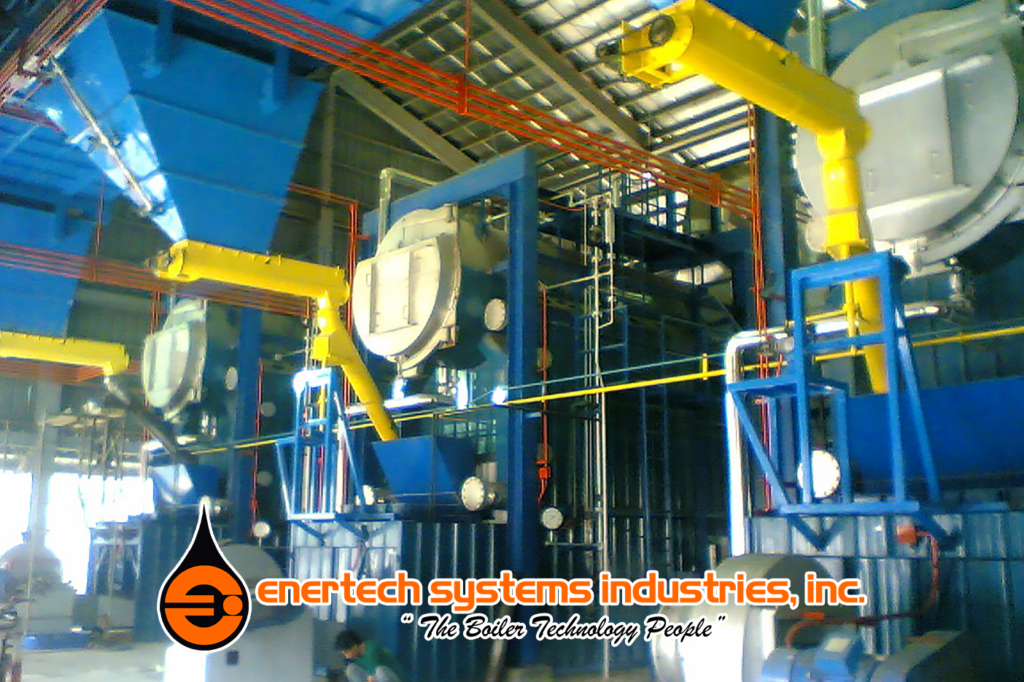 The first Filipino-designed biomass-fired boiler is a simple, compact, tube-designed pressure vessel supported by two sets of outside suspension or gallows-frame with a girder on top, and bricks insulating the sufficiently-sized furnace. Waste heat conditions and the volume of waste heat gases vary with each different source or application.
TYPE:

BIOMASS
COAL FIRED

NOMINAL CAPACITY:

40 TO 1500 HP

TONS PER HOUR

1.5 to 10 TPH

STEAM CAPACITY:

600 To 25,870 KG/HR

DESIGN PRESSURE:

150 TO 300 PSIG

ALLOWABLE WORKING PRESSURE

UP TO 20 BAR

BIOMASS FUEL

AGRICULTURAL WASTE :

RICE HULL/STALKS,
COCONUT SHELL?HUST/STALKS,
CORNCOBS/STALKS

COAL FIRED FUEL

SOLID FUEL: COAL

CONTROLS:

FULLY AUTOMATED:
BOILER AUTOMATION SYSTEM (BRAIN ++)

COMPLIANCE:

DOLE/DENR

THERMAL EFFICIENCY
(STANDARD)

85.1%(ABMA/ASME): 92.2% (EURO/TUV)

DESIGN REFERENCE CODE:

PSME/ASME
Enertech Biomass-Fired Kaldera Integral Furnace Boiler incorporates a water wall furnace in lieu of brick walls to increase efficiency. In this design, the boiler vessel sits on top of the boiler assembly, which is desirable when factory space is limited. Just like its bigger version, converting from oil to biomass-firing using the Kaldera Integral Boiler can drastically reduce fuel costs. Therefore, the cost of investment is recovered in less than a year.
The Biomass-Fired Kaldera Integral Boiler is equipped with reciprocating grate, a proven combustor for various biomass fuels, wherein biomass fuel is gently pushed down each step as it burns, until only its ashes remain. Ashes are then dropped into the ash disposal chamber, where it is continuously discharged out of the furnace by a screw conveyor.
COMPACT PRESSURE VESSEL
Simple shell and tube boiler.
Capacity range of 40 to 1650 Bo Hp up to 300 psi design pressure with either manual or automatic fuel feed system with bricks insulating furnace.
Capacities from 1.5 to 10 tons per hour and up to 20 bars maximum allowable working pressure.
WATERWALL AND BRICKWALL DESIGN FOR OPTIMUM HEATING CAPACITY
Water wall design on four walls of the furnace to increase heat transfer through radiation.
Brick wall design at the lower portions of furnace to maintain high furnace temperature.
Water walls are of welded membrane wall tube panel design to prevent air intrusion.
INTELLIGENT AND BUDGET-FRIENDLY COMBUSTION SYSTEM
Reciprocating grates for efficient combustion of all types of biomass fuel. Fuel Options include agricultural wastes such as rice hull/stalks, coconut shell/husk/stalks, corn cobs/stalks, and solid wastes such as wood chips, and saw dusts.
Choice of grate designs to suit budget and available fuel, such as pinhole grate, semi steep grate, reciprocating grate, and travelling grate.
Choice of manual, semi-automatic and fully automatic boiler operation.
Enertech Brain++ (Brain Plus Plus) Boiler
Automation provides fully automatic operation of the boiler assuring fail-safe operation and reduced number of operating personnel.