This is Enertech's main line of products. Our fleet of boilers set the quality standard in the industry for its quality. All are given the ASME certiication ensuring our clients and future clientele will receive our products far beyond "good"; in which it meets national and international standards.
Water-walled and fire-tube combination boiler for heat and power generation. It uses earth-friendly and locally available energy source or fuel. Biomass boiler technology also has a more stable fuel costs which are totally independent from fossil fuel global pricing.

Enertech Biomass Boiler is pro- business. It saves up to 85 percent of fuel cost. It earns 200 FAS Europe or 120 FAS China, per ton of ash. Bottom-line, it helps achieve positive cash flow while promoting a greener, safer environment in the process.

The Enertech Combi and Kaldera Boiler design is also available for COAL FIRING. Enertech recognizes that in these times of spiralling oil prices, shifting from oil to coal by replacing existing oil-fired boilers with coal-fired boilers can drastically reduce fuel cost.

Coal-fired boiler is sustainable and economically power generated through efficient use of locally available fuels, in an environmental-friendly fashion.
The Enertech Biomass Fired Combi Boiler is the ideal alternative to the high operating cost oil fired boilers. In areas where biomass fuels such as agricultural waste are available, the net savings from the lower fuel cost will enable users to recover the investment in less than a year. On top of the savings, biomass boiler users contribute towards cleaning the environment through reduction of carbon emission.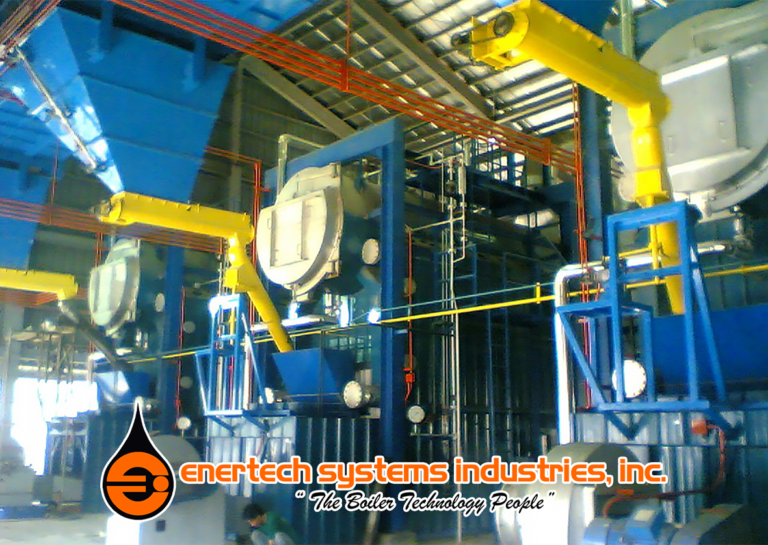 The first Filipino-designed biomass-fired boiler is a simple, compact, tube-designed pressure vessel supported by two sets of outside suspension or gallows-frame with a girder on top, and bricks insulating the sufficiently-sized furnace. Waste heat conditions and the volume of waste heat gases vary with each different source or application.