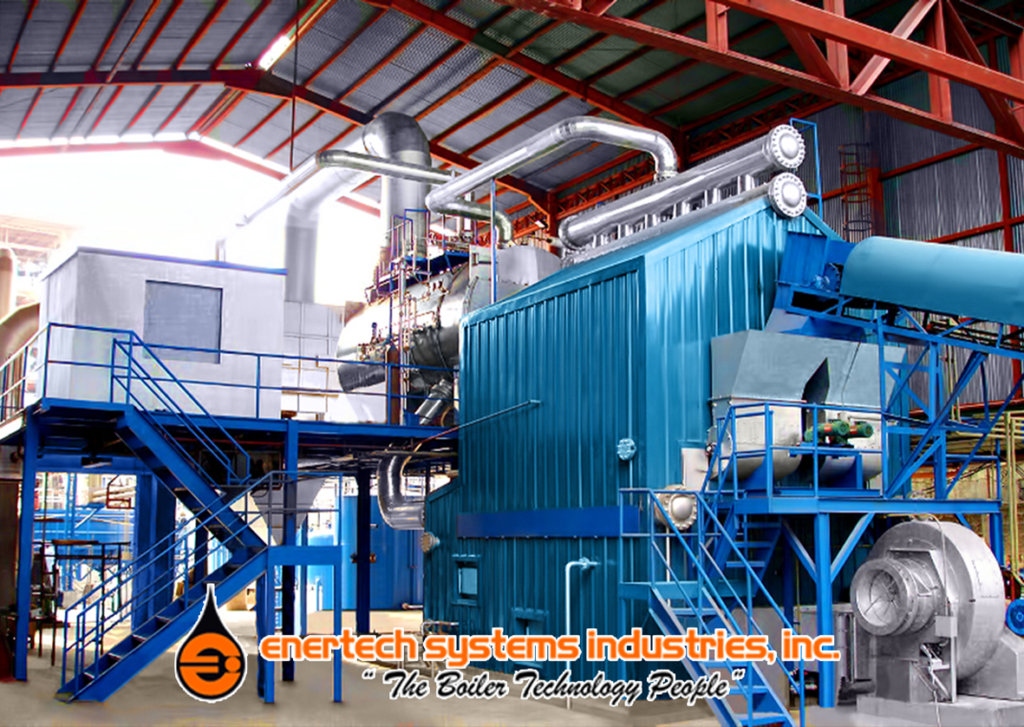 The Enertech Biomass Fired Combi Boiler is the ideal alternative to the high operating cost oil fired boilers. In areas where biomass fuels such as agricultural waste are available, the net savings from the lower fuel cost will enable users to recover the investment in less than a year. On top of the savings, biomass boiler users contribute towards cleaning the environment through reduction of carbon emission.
TYPE:

BIOMASS
COAL FIRED

NOMINAL CAPACITY:

200 TO 1500 HP

TONS PER HOUR

1.5 to 25 TPH

STEAM CAPACITY:

3130 To 25,870 KG/HR

DESIGN PRESSURE:

150 TO 300 PSIG

ALLOWABLE WORKING PRESSURE

UP TO 20 BAR

BIOMASS FUEL

AGRICULTURAL WASTE :

RICE HULL/STALKS,
COCONUT SHELL?HUST/STALKS,
CORNCOBS/STALKS

COAL FIRED FUEL

SOLID FUEL: COAL

CONTROLS:

FULLY AUTOMATED:
BOILER AUTOMATION SYSTEM (BRAIN ++)

COMPLIANCE:

DOLE/DENR

THERMAL EFFICIENCY
(STANDARD)

85.1%(ABMA/ASME): 92.2% (EURO/TUV)

DESIGN REFERENCE CODE:

PSME/ASME
The Enertech Combi Boiler is a result of two decades of continuous product innovation to create a reliable, efficient and user-friendly equipment.
In 2007, Enertech introduced an industrial boiler that is equipped with a reciprocating grate and a ram feeder that are driven by a hydraulic power unit. With the new grate design, the positive movement created by the reciprocating action assures complete combustion of the biomass fuel. In addition, the Enertech Brain++ (Brain Plus Plus) Boiler Automation has allowed automatic operation/adjustment of almost all boiler functions reducing the number of personnel required to operate the boiler. It also increase the level of safety of boiler operation.
Capacities from 1.5 to 25 tons per hour and up to 20 Bars max. allowable working pressure.
Combination firetube and watertube boiler design.
Four furnace waterwalls with brickwalls at the lower portions, for high radiation heat transfer at furnace.
Air-tight welded membrane wall tube panels to prevent air intrusion.
Reciprocating grates for efficient combustion of all types of biomass fuel.
Fuels – Agricultural wastes such as rice hull/stalks, coconut shell/husk/stalks, corn cobs/stalks, and solid wastes such as wood chips, saw dusts and others solid-wastes products.
Choice of grate designs to suit available fuel, pinhole grate, semi steep grate, reciprocating grate, and travelling grate.
Complete combustion of solid fuels is assured by providing for the 3 T's of combustion (Time, Temperature and Turbulence) in the furnace design.
Choice of manual, semi-automatic and fully automatic boiler operation.